So hi guys, i came here just to announce that i'm making a Angry German Kid fangame in a NES style. So let me introduce myself here, i was a game developer who is addicted to retro games and RPGs. In 2009, i first had Game Maker 7 that i made lots of crappy games that i can't count how many i made and the tool was pretty hard to use, so later in 2012, by the time i stayed on Windows Vista, i got a cracked Multimedia Fusion 2 (now it's Clickteam Fusion 2.5) and started making some other games with it. 
I was inspired by radel999 to make retro styled games because i liked a lot his Happy Tree Friends fangames, who are exactly looking like these NES Konami games. I made some games in Clickteam Fusion 2.5 but many of them weren't released, cancelled and however some of them are kept as MFAs in my PC.
This year i currently finished a space shooter named Space Karter: Foregone Warriors, and it's far improved from the old games i made with it, and it took many months to finish it. I learned a lot from it and it's believed to be a masterpiece for me. Despite i made this, in my GameJolt you can see i have made other games.
After i finished that game i decided to make a game dedicated to Angry German Kid. Currently i will show you the sprites my other friend YellowDrill made for my game. Well, that's right, i'm also looking for others who can help me such as pixel artists.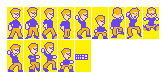 Link to my games: http://gamejolt.com/games/space-karter-foregone-warriors/79320
http://gamejolt.com/profile/dynamicill/226044
Follow them and share these games as soon possible, i need to be popular xDD
Respond soon, if you can, please! ^_^