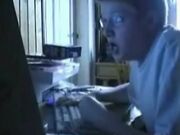 Computers (or Personal Computers, stands from PC) are electronic devices that are used by characters especially Leopold Slikk, Harold Slikk and Jake Randolf in the Angry German Kid parody universe. They seem to be almost everywhere, at Leopold's room, at School, at the computers store etc.
Leopold, being inexperienced at using a computer, has trouble with his computer multiple times, he easily gets tricked by phone/email messages in order to get what he wants, but instead he gets viruses, malware, BSOD etc. When his computer is broken or has critical issues, Leopold even attempts to buy a new Computer instead of sending the pc to repair services because he may be impatient and can't wait even 3 months without a computer [1].
Harold also does own a computer that has very similar issues to Leopold's PC. But unlike Leopold's situation, Harold will destroy and smash the entire PC in pieces.
In AGK Parodies
Leopold always uses his computer to play games, go to Internet or watch videos in order to avoid boredom.
At school
Leopold is mostly known for playing on the school computer instead of doing his essays.
Computer issues
Leopold (especially in parodies and PC Spielen) is mostly known for geting really angry and furious when his computer:
...slows down (even when loading a game).
...gets a error, virus (it goes even worse when the virus duplicates), and even the BSOD (Blue Screen of Death).
...doesn't power up or start up Windows.
...is broken or accidentally destroyed when messing up with the cables.
References
Trivia
The character who has the most issues with a PC (in parodies) is obviously Leopold.
Gallery