Drakeson Købenmajår is a character who probably appears in Parodist's AGK series [1].
Drakeson Købenmajår Bio
born 15 June 2000 actually 20 - 19 year old! he was born with skin color a.k.a SCD (Skin Color Diagnosis) he was born green and kinda injured!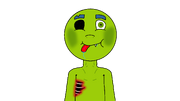 he had a girl friend but his girl friend was a Lesbian so he has fallen in love with Michele Turner
Appearances
Text here regarding the character in the parodist's series.
Gallery
References
Trivia
Information that isn't known about this character.