Litwak's Family Fun Center and Arcade is a location in the 2012 Disney animated film Wreck-It Ralph where all the kids come and play arcade games.
Games
Below is a list of all arcade games shown/implied to be in Litwak's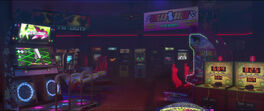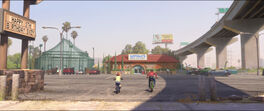 Arcade
Hero Duty
Sugar Rush Speedway
Tapper
Burger Time
Frogger
Mrs. Pac-Man
Tron
Battlezone
Food fight
Dig Dug
Galaga
Paperboy
Rally X
Street Fighter
Street Fighter II
Rampart
Agent X
Dungeons And Dragons: Tower Of Doom
Fatal Assault
Altered Beast
Space Harrier
Undead Apocalypse 3
Moto Racing
Dino Havoc
Time Hunter 4
Dragon's Lair
Robotron 2084
Teenage Mutant Ninja Turtles
District 51
Finish Line
Target Bravo
Primal Rage
Spy Hunter
Pong
Space Invaders
Rampage
Satans Hollow
Crystal Castles
Qix
Joust
Pitfall II: Lost Caverns
Double Dribble
Punch-Out!!
StarGate
Sonic The Hedgehog
Sonic the Fighters
Video Pinball
Mr Do
Contra
Donkey Kong Jr
Hoop Jamz
Tempest
Mario Bros (The Original)
Heavy Barrel
Gauntlet
Yie Ar Kung Fu
Shinobi
Track & Field
Zoo Keeper
House of the Dead
Dance Dance Revolution X2
Sprint
Ponpoko
Tetris
Virtual Cop
Unplugged Games
The following are a few of the games that are either shown or mentioned to have formerly been in Litwak's Arcade:
Q*bert
TurboTime
RoadBlasters
Star Wars
Asteroids 
Centipede
Trivia
This place can also be seen in Vanellope Von Schweetz's AGK Series.
This place is controlled by Eva Lee in Nein Cat AGK Series.
Community content is available under
CC-BY-SA
unless otherwise noted.