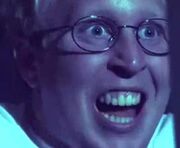 Re: Internet People - The Angry German Kid Responds! is a video by Indymogul in response to The Meth Minute 39's "Internet People" video. It is a parody of the Angry German Kid, except Leopold is being portrayed by an actor instead of using Leopold's video.
The video features our actor portraying Leopold chewing on a keyboard until he sees himself, where he then gets very excited. After a cutaway, he adresses the viewers and thanks everyone for featuring him while smashing his keyboard.
Trivia
He was the vessel of Leopold's brother, Leonidas.
The actor who played Leopold was actually Swedish.
In

Margaretka4356's

series, he is used as AGK's cousin Stefan.