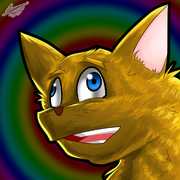 This is Ivan187, the computer dork (AKA the impossible cat video maker) taking part of the essay competition for August 2015. Alright, let's get started!
The Essay
How and when did you discovered the Angry German Kid
I discovered it when I was watching an AVGN YTP at some point during 2013. I didn't really care about that AGK clip on that YTP until I became a fan on November 2014. Then on December 2014 I decided to make my first AGK episode as my 150th video special. I stayed with that one episode for 3 months until I decided to make another one.
How you feel when you watch it and make it
Since I became an AGK fan, these are one of my favorite types of videos to watch, and I watch them until 2 to 5 in the morning. I'm mostly only keen on parodies that my subscriptions make, though. And I like making AGK episodes, but I often see some unexpected observations while I make them, such as the video escalating quickly, the final length of the video being so short (especially for my ninth episode), how quickly I get stressed for trying to put time and effort into it, probably because I don't want my viewers to think I'm inactive (xD), and the fact that I have to change an episode if I can't think of original ideas. I don't wanna change my episode plans too much because it might get annoying to some of you out there, but overall, I like making these parodies.
Comments on certain parodies, channels and series
Cansin13 is my #1 favorite AGK maker, and my favorite episode from him so far is the 94th: AGK vs. Sonic.exe Part 3. Unlike a lot of other parodists, Cansin13 was the one who introduced me to make AGK parodies in a different way from him, e.g. my eighth episode (AGK plays The Impossible Quiz), and I can't wait for AGK's 2012. AngryGermanKid82 was one of the first parodists I've ever watched, but said parodist turned out to be overrated and it turned me off, especially people's comments. TheCrazinessCat is my #2 favorite AGK maker, and he uses Windows Movie Maker. For such awesome and long AGK adventures, that's actually kinda cool.
Hardships on making parodies and how you solve it
My own stress turns me off from trying to make quality episodes; I tried to make a battle scene on VideoPad the other day and it was too much, so now I have to think twice before I get to making Episode 22. And as for short videos, the probability of solving that is approximately from 20 to 1. To make up for how short Episode 16 actually is, I included spoilers after the credits, and the length went from 3 and a half minutes to 4 and a third minutes. Yeah, I suck at making these parodies, and even I admit my failures. I don't know how can they get so many positive reviews! The only thing that I seem to like are my warning thumbnails. xD
What new things you have discovered or learnt since discovering AGK
I learnt to use keyframes in VideoPad, how long it takes to make an exhaustible quality parody, and how fun making videos actually is sometimes. I discovered the limits of how far creativity can get to, and the many improvements/changes that could've been done to a large amount of parodies of the tradicional style. My style is Modified Traditional if you didn't know.
And more you could think about?
I think about how I'm going to make Episode 55, which is one episode I'm really looking forward to making. And this is the second time I write this essay, because the first time I was almost done but I accidentally closed it, so I had to redo it all over again. Oh well, that does it for this essay. I hope you enjoy writing yours for this competition!
Community content is available under
CC-BY-SA
unless otherwise noted.